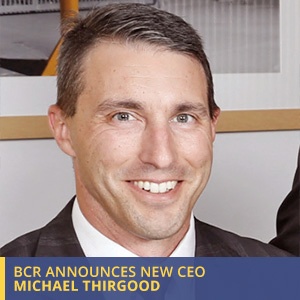 100% key customer retention in 2017.
Triple digit growth in 3PL division over past 12 months, exceeding forecasts.
Michael Thirgood appointed new BCR CEO.
On the back of a strong 2017 with 100% key customer retention and triple digit growth in their 3PL division over the past 12 months exceeding forecasts, international and domestic freight forwarding company and 3PL provider BCR has appointed Michael Thirgood as its CEO.
Michael will assume responsibilities from 14th May 2018, and will succeed David Katte, who as Director and CEO will step down as CEO to focus on his passions in IT and finance.
Michael has been a key member of BCR's executive and leadership team since 2010, and been described as a "highly impressive talent known for his collaborative leadership style and for building high performance teams," and has "distinguished himself as a highly talented, inspiring and energetic leader."
Reflecting on his appointment, Michael said: "I am honoured and excited… What a privilege to lead an Australian owned company whose focus is on delivering a personalised service for our customers… Building further on our success is a challenge I accept with confidence, determination and fierce ambition. I am passionately committed to placing our customers at the absolute centre of everything we do."
On background
Michael holds a degree in International Business from QUT and an MBA from Deakin University. Currently based in Brisbane with his wife and 3 children, he will be dividing his time between BCR's Brisbane office, Head Office in Sydney and any other location the needs of the business and BCR's customers might take him.
BCR's history dates all the way back to 1892, and has grown into a vast global network of freight forwarding service professionals in more than 100 countries. They serve Australian based companies and multinationals with customised solutions across every aspect of the supply chain, and pride themselves on their personalised and professional approach, integrating high quality customer service principles with strategies that most effectively nurture business development and growth.
For more than a century, BCR has continued to help small, medium and large businesses achieve an optimum logistics solution with warehousing and transportation, including air freight and sea freight services to and from the major ports including Brisbane, Sydney, Melbourne, Adelaide and Fremantle (Perth).