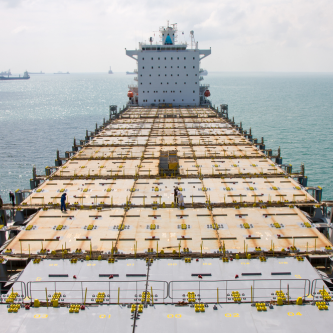 In 2013, we have seen a slowdown in private consumption and in turn a fall in shipping demand and shipping rates. New vessels and overcapacity only makes this worse. One tactic shipping lines have applied to try and stop this fall in rates is to introduce a Blank Sailing Program.
Read how the current Blank Sailing program affects the space available and the costs to import. And how many shipping lines work together to try and improve their bottom line.
What are Blank Sailings?
A Blank Sailing is when an organised group of shipping lines omit specific sailings in order to decrease capacity which increases demand and price. Apart from reducing the weekly space available, this will also mean there will be terminal and transit time disruptions. In 2013, the Blank Sailing program started in September and focused on inducing southbound rate increases from China. It has been forecast to continue till the end of November.
The Blank Sailing program is one of the many ways Shipping Conferences or Shipping Consortiums work together as an industry to decrease capacity and try and force increases in shipping rates. At the same time as removing capacity, the Shipping Conference that focuses on Australia, announced rate increases ranging from USD 300 – 500 per TEU effective from early September, with latest announcement effective on November 17th. By managing capacity in the form of Blank Sailings they have been able to implement these rate increases in accordance to market conditions.
Especially in Peak Season this is a key problem and leads to major increases in logistic costs and disruption to the flow of imported goods.
So what is a Shipping Conference or Shipping Consortium?
A Shipping Conference is a group of shipping lines that work together for a common goal. According to Shipping Australia, 'A major reason behind the formation of Conferences was the regulation of competition between carriers, through the setting of mutually agreed freight rates and conditions of service, so that the trade might benefit from the rationalisation that co-ordination allows, but competition prevents.'
These Conferences have been working in Australia for over 100 years and are still alive and in force today. In the past there were penalties for companies that broke Conference agreements, whereas today, these groups are voluntary and agreements are non-binding. The main Conference focused on Australia is the Asia Australia Discussion Agreement (AADA) which includes ANL, China Shipping, Cosco, Hamburg Sud, Hanjin, Hapag-Lloyd, Hyundai, "K" Line, Maersk, MSC. MOL Line, NYK and OOCL.
So far, the 2013 Blank Sailing program has been successful and the AADA members are currently in discussions to extend their blank sailing programs until June 2014 as part of a more formal Rationalisation Program, also referred to as a SSP or Slack Season Program. This comprehensive program might involve a combination of blank sailings and purchase slot agreements in order to share the burden of rising costs in bunker to prepare for the weakening demand; however final information is yet to be released. It may mean that approximately 15 – 20% of weekly available space will be taken away from the market.
What can you as a logistics solutions manager do to not get caught out by Blank Sailings?
BCR proactively communicates with its customers, global partners and carrier network as soon as any Blank Sailing program is advised. This enables us to make sure proactive procedures are tailored to provide minimal disruptions for our customer's supply chains. If you are concerned about your cargo not making it on time contact us today.